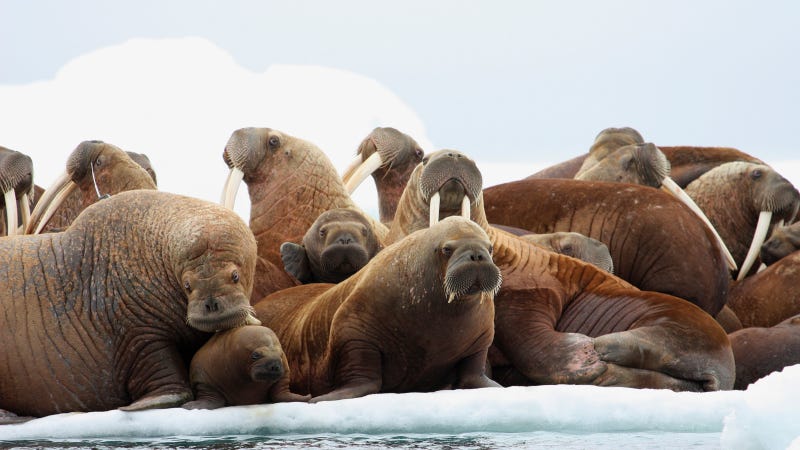 Authorities are looking into the deaths of 25 walruses recently discovered near Cape Lisburne, Alaska. Some of the bodies were decapitated, or missing tusks and penis bones, suggesting that they had been harvested for the valuable parts. Nearly half of the dead walruses were pups.
According to a representative of the U.S. Fish and Wildlife Service, the walruses' condition doesn't necessarily mean they were poached. "We can't come to any conclusions based on a report. You have to go out and investigate," said Andrea Medeiros. It's possible that the walruses were already dead when they washed ashore, and that their parts were later collected by opportunistic poachers.
Climate change could indeed be a factor. Last year saw the largest gathering of walruses, 35,000, on an Alaskan beach. National Geographic explained the phenomenon as a result of shrinking Arctic sea ice:

It's hardly the first big walrus gathering to be documented, a fact noted by climate change skeptics. But scientists say the size of the gatherings are growing as climate change melts Arctic sea ice, depriving walruses of their sunning platforms of choice.
But locals say they spotted some bullet holes in the carcasses.
Walrus hunting is legal in Alaska, with some caveats—Alaskan natives can kill walruses for food, or for traditional crafts or clothing. But they cannot kill the animal just for ivory.
Subsistence walrus hunter Steve Oomittuk told Alaska Public Media that it's been harder to hunt walrus in recent years, adding that he suspects these walruses were killed illegally. "[…] If they have gunshot wounds and everything and the heads were gone then someone's doing something that should not ever be done," he said.
And this is not the first time beheaded walruses have been found on on Alaskan shores—a similar incident occurred back in 2007.
RIP, walruses.
Danielle Wiener-Bronner is a news reporter.