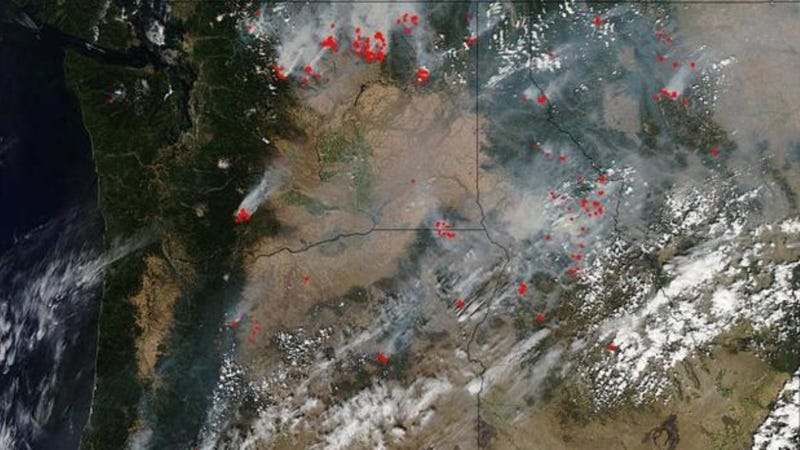 Just halfway through 2015, the amount of acreage burned by wildfires in the U.S. already ranks in the top ten burn years on record, according to data from the National Interagency Fire Center.
Through, more than 43,000 wildfires have burned through 8.1 million acres of land, "well above the 10-year average of about 5.5 million acres through Aug. 31,"  The Associated Press reports.
Here's the chart — the all-time acreage burn record came in 2006, at 9.8 million.
And here's the map, via geographers ESRI. Huge chunks of northern Idaho and western Montana have ignited—the Idaho Statesman reported 18 large fires were burning in the state as of Monday, the most in the nation (you can click through to navigate).
The U.S. Department of Agricultural estimates Americans are spending $150 million a week to fight these blazes, according to USA Today's Bill Theobald. Seven firefighters have died responding to the outbreaks since April.
What role is climate change playing here, you ask? A prominent feature of climate change happens to be making wetter areas wetter, and, conversely, drier areas drier. So although human development obviously plays a role in increasing wildfire risk by encroaching on fire-prone areas, places that have seen some of the biggest recent increases, like  Yosemite National Park and the Northern Rockies, "are protected from or relatively unaffected by human land-use and behaviors," suggesting climate change is a major factor driving the increase in wildfires, according to the Union of Concerned Scientists.
The U.S. government has come to the same view.
"In the western United States, both the frequency of large wildfires and the length of the fire season have increased substantially in recent decades, due primarily to earlier spring snowmelt and higher spring and summer temperatures," GlobalChange.gov, the government's climate change research agency, said in a recent report. "These changes in climate have reduced the availability of moisture, drying out the vegetation that provides the fuel for fires."
U.S. Sen. Ron Wyden of Oregon has introduced a bill to address the situation, but it faces opposition from Republicans who believe it amounts to pork spending, Theobald reports.
Rob covers business, economics and the environment for Fusion. He previously worked at Business Insider. He grew up in Chicago.