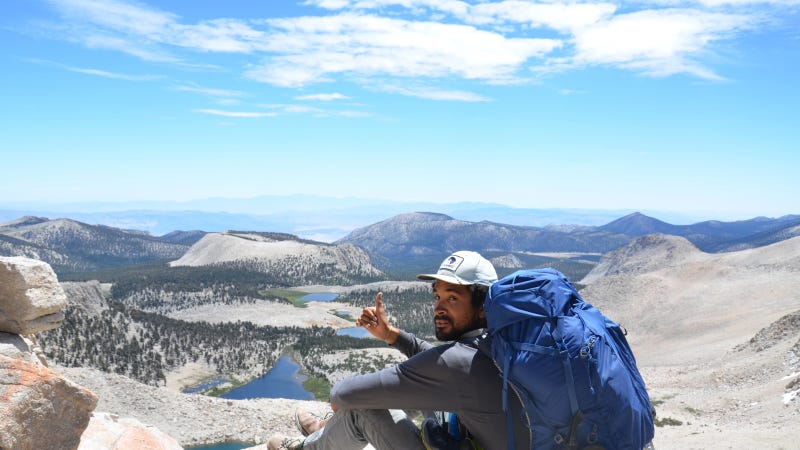 "There's this belief that environmental degradation affects all of us," said Osceola Ward, a graduate student at UCLA's Institute of the Environment and Sustainability. "By thinking that way, we don't have to figure out how race and class play into that. Those affected the most are the poor and oppressed. Those are the people who are often overlooked."
Ward, who's teaching students of color how to advocate for their neighborhoods and their futures, pointed to the affluent community of Porter Ranch and the impoverished areas in southeast Los Angeles where Exide set up shop. A massive natural gas leak in Porter Ranch caused thousands to flee. California Governor Jerry Brown declared a state of emergency, ordered public health reviews, and visited residents.
Across town in Boyle Heights, Vernon, Maywood, Huntington Park, Commerce, and other communities, high levels of lead, arsenic, and other toxins have seeped into the ground from Exide, a manufacturer and recycler of lead-acid batteries. These toxins can cause certain types of cancer, learning disabilities and behavioral problems in children, and miscarriages in pregnant women. It took years to shut down Exide and cleanup is moving at a snail's pace.
Fusion recently reported that people of color in Los Angeles are more likely to live closer to sources of industrial pollution and endure poorer air and water quality than their white contemporaries. Ward saw that in the towns where Exide resides.
He also experienced it in the summer of 2012 while working on a class action suit against Chevron. At that time, Ward was thinking of becoming a lawyer. He interned at a law firm taking statements from residents, mostly people of color, who were affected by a fire at the oil giant's refinery in Richmond, CA.
"I listened to mothers crying on the phone about their children's health," Ward said. "I recorded them verbatim—six hours per day, for months on end."
Chevron eventually pled no contest and paid $2 million to settle the case. That experience led him to refocus his career toward environmental justice.
After finishing up a bachelor's degree at Howard University, Ward came to UCLA for graduate school. He joined the Leaders in Sustainability certificate program as he worked towards a master's degree in Africana Studies. The sustainability program brings together students from diverse fields of study to focus on environmental problems. Each student devises a leadership project that has measurable outcomes.
Ward's doing his leadership project in part through Outward Bound Adventures, a 501(c)(3) nonprofit where underserved teenagers, young adults, and families experience the outdoors and learn about environmental responsibility. He works as a certified lead instructor there and recently led a group of high school students from Compton and Pasadena to Mono Lake, CA.
"After taking their cell phones so they could better connect with their surroundings and with each other, they started to appreciate the environment around them," Ward said.
Along the way, Ward and his team made several stops. They visited a solar plant, where they discussed alternate energy sources. In the Sierra Nevada mountains, they toured a lake and talked about the water supply and the impact of the drought.
Ward told the kids about his favorite constellation, the Big Dipper, and how escaped slaves walked toward freedom following it northward. They listened intently and at the end of the trip, they forgot to ask for their phones.
"Watching them look up and see the night sky was transforming for many of them," he said.
Out on the trail, they came across rangers on horseback. The students had no idea that they could be a ranger in a national park someday. Most of the students have no role models. Ward talked about some of his own, including DJ Cavem, an emcee based out of Oakland, CA, who also works to teach youth about organic gardening, climate change, and healthy living through hip hop.
Another one of his role models is Stic.Man, one half of the hip hop duo Dead Prez. "He's a committed environmentalist who's been involved with a number of campaigns across the country," Ward said. "He is one of my biggest inspirations and even exposed me to veganism as a youth."
He's also a fan of John Francis, known as Planetwalker, because he has walked all over the world bringing attention to environmental degradation.
Jamonn Roberts, program coordinator for Outward Bound Adventures, said the kids in the program "rarely come to us with any outdoor experience or any role models that they look up to."
"Most of our kids can see the mountains from their homes, but they've never visited," he said.
Ward enjoys sharing his vision of the outdoors with the students.
"If you're never able to leave your community, you're unable to envision something different," he said. "It's unfortunate that many schools lack strong science programs that would allow kids to see a future in environmental fields."
Ward relates to the kids. Growing up in East Palo Alto, a community he recalls as "wild," Ward spent much of his childhood indoors avoiding life on the streets. He grew up reading National Geographic magazines and dreamt of travel. "As a kid, I didn't have to opportunity to visit national parks," he said. "And most of the kids in Outward Bound Adventures experience the parks only because of these programs."
A survey commissioned by the National Park Service found that the majority of visitors to national parks are white. Fusion recently ran a story on why black Americans don't visit state and national parks, including fears of discrimination, the effects of slavery and segregation on the leisure habits of black Americans, and the history of wilderness as a site of trauma for black bodies.
"This year is the centennial of the National Park Service and there has been a big push to diversify," Ward said. "The lack of black and brown folks in these spaces means that our history is often elided or erased in retelling of park history. The fact that the trails in Yosemite and Kings Canyon were laid by black Buffalo Soldiers or that black and brown members of the Civilian Conservation Corps worked tirelessly to build park infrastructure is never spoken."
"This makes National Parks seem like an exclusive space for white elites," Ward continued. "Having more diversity in the parks would not only serve as an employment opportunity for marginalized communities, but would give us an entry point to enjoy some of the most beautiful land our country has to offer. This is critical for reimagining our own communities in our struggle for equitable access to healthy environments and enriching places to live."
Ward first visited several national parks when he and a friend took a cross-country road trip. In order to save money, they stayed in national parks. That's where he "fell in love" with his surroundings.
His next step is putting together a summit in the spring. It will be the culmination of his leadership project for UCLA. "I'm reaching out to black and brown scientists who are working on a host of environmental issues," he said.
The goal of his work and the summit will be to show young people of color that there are role models they can look up to. He's casting a wide net of experts to lead panels and break-out sessions on environmental issues and career opportunities in those fields.
"For Osceola, it's about connecting the outdoors to urban environments and about having residents take ownership of their neighborhoods," said Colleen Callahan, deputy director of UCLA Leaders in Sustainability Graduate Certificate Program. "And he's leading by example."