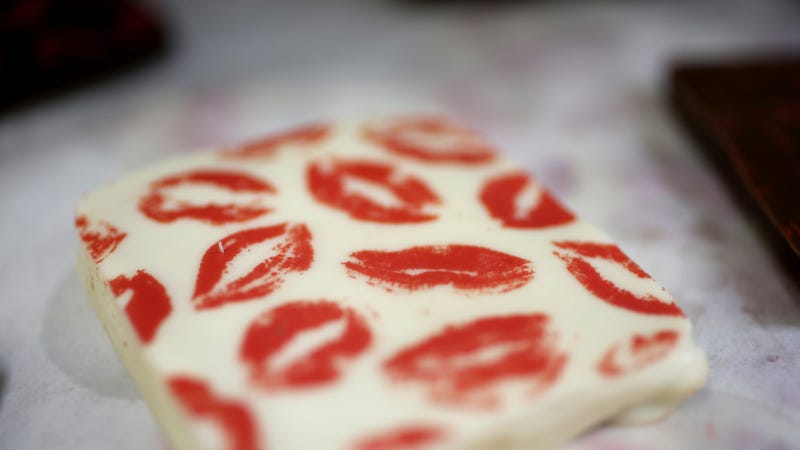 On February 14, 198 million roses will be purchased, 180 million greeting cards will be exchanged, and nearly $20 billion dollars will be spent, all thanks to Valentine's Day. More than half of consumers will celebrate the holiday with gifts including candy, flowers, jewelry, meals out, clothing, and more extravagant finds.
Why not direct this spending towards a more positive impact for people and planet? Show love to significant others, special someones, parents, children, coworkers, teachers, and friends with experiences and thoughtfully selected gifts.
Here are 14 of the best options:
Crystal Vial Necklace
This necklace combines style, sustainability and health with an elegant design made from recycled metals that houses essential oils. $79.00
RMS Beauty Makeup
Red, pink, and coral. Add a pop of festive color to any day or night with raw organic botanicals. $36.00
Chocolate Sea Salt Caramels
Delight your loved one's sweet tooth with these organic, vegan morsels with all of the good and none of the bad of standard candy! $6.89
Aromatic Soy Candles
Love is in the air with these non-GMO soy wax candles, scented with pure essential oils and extracts. $19.95
Rustic Picture Frame
Capture and display a moment in this beautiful, sustainable piece of metal-rimmed handmade art. $45.00
Plantable Greeting Card
If you are going to give a greeting card, recycled or up-cycled is a good bet, but plantable ones are even better! $5.99
Dark Chocolate and Mint Lip Balm
This minty chocolate lip balm is delicious and über hydrating and perfect sized for on-the-go. $3.99
Vegan Marshmallow and Chocolate Hearts
Gooey, delicious, chocolaty, organic, vegan marshmallow hearts are the best kind of hearts. $4.49
Bundle of Love
Send a bundle of FEED goodies! Each purchase provides twenty school meals for children around the world. $55.00
Chocolate Pu-erh Tea
Chocolate, chocolate, and more chocolate! Treat someone to sweet, warming, organic tea. $8.99
Sustain Condoms
Yup, we're going there! Do what's natural with these fair-trade, nitrosamine-free, women health-focused condoms. $11.00
Toasted Quinoa Dark Chocolate Bar
Fair-trade chocolate is a must. And it pairs perfectly with nutty quinoa in this artisanal vegan bar. $3.99
Organic Panties
Comfortable, fair-trade, and organic cotton underwear in an array of colors and designs are a surefire win. $22.99
White Sage & Geranium Body Oil
Bring on the back rubs and shoulder massages! This luxurious oil is great for skin and ideal for tense muscles. $30.00
Erin Schrode is a green girl and ecopreneur. As the "face of the new green generation," the co-founder of Turning Green promotes global sustainability, youth leadership, environmental education, and conscious lifestyle choices. An award-winning orator and media personality, Erin has contributed to Fusion, speaks internationally, and consults with corporations and organizations on millennials, sustainability, and social good.